Asheronīs Call DARKTIDE Past - by Schattenkind - Monarch of the Shadow Warriors

Please excuse any spelling or grammar mistakes. I wrote this very long text in two days and English is not my first language (I'm german). There may be some slight time-line mistakes, because I'm writing this all from my memories and from looking at some old screenshots. This text is of course influenced by my subjective opinion, however I think that I recalled all of the described events correct. I hope that you enjoy this text about my experiences on the World of Darktide. Iīm writing this because I enjoyed playing Asheronīs Call on Darktide a lot, and I fear that I may forget some of the things that happened in the future. I left out a lot of details because it would simply blow up the size of my story too much and I have no time to write more. Itīs already too long anyway.

Some of the newer Darktide people may not know who I am. My character's name is Schattenkind. My character is an very old archmage and I created the character by having things/experiences from beta in mind. I think I'm one of the very few persons who is still playing his original character as main character since November'99 on Darktide (+ playing the game regular, which means nearly every day for a few hours). Currently I'm not playing AC that much anymore, because lag got lately so terrible on Darktide. God-mode (may it be a feature or not) also destroyed a lot of fun fr me. In my eyes itīs simply cheap cheating, and it requires for sure no skills. The 'Schattenkind' character is far from being perfect and I'm having sometimes a hard time fighting all the new extreme & perfect PvP templates but I'm still killing people in my level range regular (without god-mode), so I think I'm doing ok in PvP.


I started on Darktide when AC went retail as soon as my copy reached me in germany (around 1 week after AC's official launch). My reason for starting on Darktide: I had seen in Beta a lot of Dereth on the non-Pk Worlds and in my imagination I could see all the experienced Beta players power-leveling like nuts at the known XP-Spots (especially Lugian Outpost at Qalabar), overcamping Qal/Arwic smith for good loot and portalstorming out of towns. Because of my Beta memories I did forsee overcrowded dungeons and towns on the white-dot serv'rs. I needed a change in AC after Beta and I loved about early DT that you could run through specific towns without meeting a single person for hours (I remember myself sitting in Yanshi on the town-rock without a single person popping up on radar for 3 hours). PvP was for sure one of the lesser reasons why I started on DT. DT had a very low population average (at peak times somewhere around 150-400 players; even much less at the beginning).

AC-DT was my first mmorpg-PvP-Experience. I had no clue about all the 'owning' Clans from other games like UO or EQ, and which PvP-Clan o\/\/ned what on which server. I really didn't care about such things and I still don't care. I don't care about monarchy sizes, I don't care about levels and I don't care how long someone plays the game. I fear noone in a virtual world and when I have to fight a lot of people I see it as a challenge. When I have no chance to win a fight I try to run or recall away. When someone manages to kill me, he usually deserves my loot. I donīt whine about it nor do I care too much. I also never portal logged, because I think that this exploit is simply a too cheap escape from death. If you get yourself into a deadly situation, then itīs your own fault or risk. The consequence is your death and you have to live with that. Sometimes life on Darktide is harder, sometimes itīs an easy life. What I care about is that someone takes his characterīs role serious, that he can say a few more words than 'Yo!, Dude!, Sup?, Bro!, peace?, Can I swear to you?, Can you protect me?, Where do you level? Where are you tied to?, Help! and so on... I care about my characterīs role and my characterīs reputation. AC is not only a 'game', it is also a community of a lot of players that interact with each other. It is important for me that I'm surrounded by players that I can rely on. I hate it when people lie in real-life to me, and I hate it not less in AC. In AC usually everyone gets from me what he deserves. I'm on the internet since a very long time and I learned early that people in virtual worlds (IRC or where ever) often play roles that don't reflect their real personality. It's pretty amazing to see this in AC (even if from time to time someoneīs real personality shines through the role. Noone can prevent this). Some roleplay excellent evil and strong guys while they are weaker and totally peaceful beings in real-life (they just enjoy being evil), others see their chance to role-play the 'light" to bring justice into this virtual anarchy world. They may be noone special in real-life, they may be "yes" sayers in real-life that obey every command from their boss without reflecting it, but in AC they try to be the good Paladin that battles the forces of evil. Then there is this group of players that are mentally totally weak, uneducated idiots that don't roleplay being an asshole they are really an asshole. Some think limited; they just think selfish and they actally care not much about anything except their own person. All the weird stuff that comes up in their brain has to be instantly spoken/written out by them. They are simply not nice persons. We have also a good amount of little kids that are reflecting their social problems as a computer-generation kid in a virtual world. I usually just feel sorry for these kind of players. Then we have groups of people that stick simply together and try to get the best out of the game for their group. They don't care much about their reputation or other groups/persons. They just play straight the game, try to reach anything that can be reached and then move on to the next game. We have also Mr. Y who is working hard the whole day, logs on for 1-2 hours in the evening and just wants to have some fun. There are for sure more categories, but I guess you don't care... hehe.

I also wonder sometimes why some of the DT clans or players have the feeling that they have to advertise their bans or hacks from other online-games. I mean - is this something you have to do to be cool in a virtual play-world? Hacking/violating/cheating game-rules in other games to be respected in the next game, in this case Asheronīs Call? Pretty sad if you ask me. It just keeps serious gamers that are in the game because of 'the game' away from these people. If you play chess or for example a random card-game - do you cheat to win? Do you violate the rules? Do you think anyone serious would ever play with you again if he finds out that you constantly violate the game rules? Wonīt he turn around and never come back? To win by all means in a game - even with cheating - doesn't make you a winner. You become a Nobody (non-interesting-opponent) in the eyes of a real gamer. You are a non-factor for a real gamer. Real Gamer don't care if you became a level 90 and/or c00l d00d by all means. I'm aware of that probably a lot of people won't understand what I just said but it's the truth. The point is not that you win - the point is how you win. Even if you are mr super-hot-on-the-top on the paper - a modified paper doesn't make you the best or winner, your opponents give you the chance to win the game. They have to acknowledge your victory, otherwise it leaves always a bitter taste and 'your' victory isn't much worth. But like in real-life there will be always a lot of people that have to win (and that have to be always the best) in AC, no matter what they have to do in order to reach that goal. Online-games attract for sure a lot of these people.

I didn't know TM, I didn't know SiN, I didn't know KoC aka Blood (the current DT Bloods/KoCs joined DT pretty late compared to the others), I didn't know any 'Anti'-Clans and... oh well.. I didn't know a single person when I started on Darktide. A grown up person (Iīm 25 years old) but fresh newbie in a PvP-World (however I had AC experiences from beta).

When I created my character I thought: Well, how will I play this character. What awaits me in this world? Do people attack each other for no reason like in Quake? Shoot everything that moves? Well, I had no clue about a PvP-World and so I made a set of rules for myself. I would roleplay a peaceful ghar'un fighter who basically just defends himself should anyone attack him. I would never attack anyone first without a good reason. I would also fight people in general from enemey-allegiances that attacked me earlier. I'm still playing with this set of rules.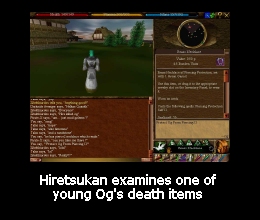 So I started at Rithwic and I got pk'ed in the first 30 mins of my DT-career by a Level 8 UA-Fighter called 'Og'while I was buying some components at the mage. I think I thought something like: 'Hey, that wasn't nice. What an ass. Oh well... I guess he roleplays some kind of evil character.' He didn't say anything, he just killed me. I learned later more about Og. I killed some monsters in the woods to erase my vitae and I went on to eastham. Another german player wrote me on a msg-board that I should come to Eastham because I could find there a little but nice community and 2 other germans. One of these 2 other germans was Kitae (an experienced PvP player from other mmorpgs but who had no clue about AC when he started on DT. His name was Proculo at that time). Proculo was under Owain Goch (level 15 orso) and that's how I got in contact with early CED (Circle of Eternal Dragons). I was never really into power-leveling but I saw a medium level range as requirement to survive on DT.